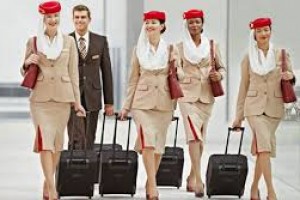 01 Mar, 2020
12537 views
News
Airline witnesses 'measurable slowdown' in business due to containment response that has impacted flying on some routes
---
Emirates Group, which includes the world's biggest airline by international traffic, has offered its staff the option of taking voluntary leave, joining global carriers in taking measures to address the slide in air traffic demand due to the coronavirus outbreak.
The company asked employees at its 100,000-strong group to consider taking paid and unpaid leave, according to an internal memo seen by The National.
"A particular challenge for us right now is dealing with the impact of Covid-19," the March 1 email said. "We've seen a measurable slow-down in business across our brands and a need for flexibility in the way we work."
The virus has spread to more than 60 countries, prompting the World Health Organisation to raise its risk assessment to its highest level.
Global airlines are forecast to lose an estimated $29.3 billion (Dh107.6bn) in revenue this year, 5 per cent lower than forecast in December, due to an estimated 4.7 per cent decline in travel demand, the International Air Transport Association said in aninitial assessment of the coronavirus impact.