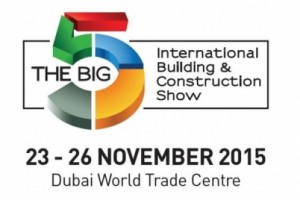 11 Oct, 2015
8783 views
Events
The gateway to the Middle East and North Africa (MENA) construction market.
---
Date: Monday, 23th - Thursday, 26th November 2015
Duration: 4 days
Timings: 11:00 AM - 7:00 PM
Category: Business
Venue: Dubai World Trade Centre Sheikh Zayed Road, Dubai
Admission: Free Online Registration, AED 100 at the gates
For more than thirty years, The Big 5 has provided a business and networking platform for the construction industry. It is the gateway to the MENA construction market providing both exhibitors and visitors with the opportunity to conduct serious business with like-minded professionals and access the most current information on all aspects of the construction industry. The event will be run side-by-side with Middle East Concrete and PMV Live which also addresses the wants and needs of the construction industry.